It's in the air – the smell of fall and upcoming winter and the nasty cold and flu viruses that can take the fun out of the holiday season by keeping you stuck at home or bedridden for days.
Fall and winter months are as much the season of cold and flu as they are for holidays and festivities. And if you want to make the most of the latter, you've got to prepare for the nasty viruses that hang in the air during this time of the year. Mucinex can be your best weapon against it.
For several years, Mucinex has been a must-have in every medicine cabinet, protecting the nation from cold, flu, and a range of other respiratory allergies.
Sign Up and Save
Wish you could save some money on your regular Mucinex runs?
You wish they listened – the company provides exclusive discount offers to its Mucus Fighters+ members. All you have to do is sign up on their website. So, what are you waiting for?
Sign up for Mucinex now and start saving! Click the banner below!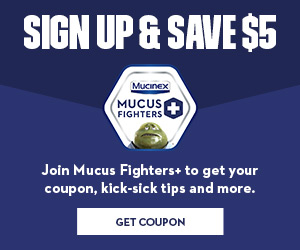 Mucinex Discount Offer 2022
Sign up to become a part of the Mucus Fighters+ team and receive a printable Mucinex $5 Off Coupon in your inbox instantly.
*The discount can be availed on any Mucinex product priced over $14.99.
Mucus Fighters+ membership gives you exclusive access to Mucinex's best-kept cold-fighting secrets.
Arm yourself with the best cold-fighting tips and medicines before the nasty viruses attack you and your family this season. Sign up for Mucinex' Mucus Fighters+ today!
*Disclaimer: This post contains sponsored content.*