It's no secret that deodorants and perfumes have become a staple in most women's wardrobes. After all, who doesn't want to smell great before stepping out of the house every day?
Whether headed for the office, going out for lunch with friends, or dolled up for an important date, you're never fully dressed without perfume.
But do you smell great at the expense of your health?
Do you know what's inside your perfume or deodorant?
Many commercial products used to combat bad body odor contain harsh chemicals that can cause skin sensitivity and harm your health.
The good news? There's a safer alternative that keeps you smelling great: natural deodorants by Schmidt's Deodorant!
Place your order today to get 15% off!
Click the banner below!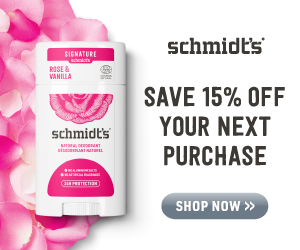 5 Fantastic Benefits of Schmidt'sNatural Deodorants
1. Contain Plant and Mineral-based Ingredients
If you've ever applied deodorant on shaved armpits, you must know how irritating (and painful) it can be, especially if you have razor burns.
Ouch.
When this delicate area is hair-free, the last thing you should do is rub chemicals on it.
The artificial fragrances in store-bought products can also cause rashes and allergic reactions if you have sensitive skin.
Schmidt's natural deodorants are infused with gentle ingredients like shea butter, coconut oil, and essential oils to keep your skin healthy and hydrated. They feel smooth on the skin and don't dry it out.
2. Provide 24-hour Odor Protection
You may think sweat causes foul body odor, but that's not the case. The bacteria on your skin are the real culprits.
Conventional deodorants work by temporarily clogging the pores on your skin to prevent sweating. This isn't good for you because sweating is your body's natural way of cooling down.
Schmidt's natural deodorants are formulated to neutralize the odor instead of stopping the sweating. The botanical ingredients possess excellent anti-bacterial properties that keep bad odor at bay the entire day.
3. Leave No Stains
Did you know that conventional deodorants can leave stains on your clothes?
The chemicals inside them can react with those in your clothing's fabric to ruin it.
You can say goodbye to such stains by investing in Schmidt's natural deodorants!
4. Don't Hurt the Environment
Many commercial deodorants contain Triclosan. This anti-bacterial ingredient ruins the whole aquatic ecosystem by contaminating oceans and waterways. Some animal studies also revealed that it decreases the level of thyroid hormones.
If you care about aquatic life and the environment, you should consider switching to natural deodorants with plant and mineral-based ingredients.
5. Are Certified by Ecocert
Schmidt's Deodorant is the first and only company in the US with natural deodorants certified by a leading global certifier, Ecocert. Its ingredients are 100% safe and effective.
The lack of chemicals and artificial substances in its formula will make you feel more confident about your skincare routine.
Claim 15% Off on Your First Order at Schmidt's Deodorant!
Schmidt's Deodorant offers an amazing discount of 15% for all first-time customers. Check out their collection and place your order today for good skin and great-smelling days ahead!
Don't forget to sign up for their emails to be among the first ones to receive helpful tips, exciting offers, and the latest news!
*Sponsored: This post contains sponsored content.*