Are you all pumped up to make this holiday season the best time of your life?
The days leading up to the festivities are always so exciting (and busy). While holiday preps are in full swing, you get little time for cooking and meal planning. It's best to start earlier rather than later to ensure your kitchen holiday transformation finishes in time for the events.
It starts with stocking up on your favorite products. Below are our top three picks.
Sponsored: Click the banner below to sign up!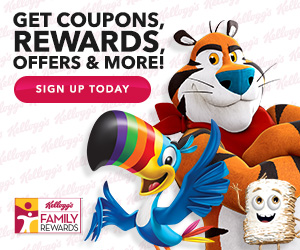 That's Too Much Cheese – Said No One Ever!
Cheez-It® Grooves comes in four flavors: Zesty Cheddar Ranch, Sharp White Cheddar, Bold Cheddar Crackers, and Scorchin' Hot Cheddar to make snack time more fun and delicious.
Thanksgiving without Turkey – What?!
From chick patties, sausage patties, bacon strips to black bean burgers, veggie meatballs, and sausage, egg & cheese vegetarian breakfast sandwiches, MorningStar Farms® has a wide range of products to take your Thanksgiving meal to the next level.
Did Someone Say Pumpkin Spice?
Thanks to Frosted Mini-Wheats® Pumpkin Spice cereal, holiday breakfasts just got more appetizing. This item is a must-have for the fall season – make sure you get your hands on it before the stock runs out!
Let's Earn Kellogg's Family Rewards!
Kellogg's Family Rewards is a remarkable program created to give something back to you in the holiday spirit. Think exclusive savings, great-tasting recipes, special offers and promotions, and more!
To participate, all you have to do is sign up with your email address before purchasing KFR-participating products you love. You'll earn 100 bonus points just for signing up!
You'll collect points on each purchase in three ways and get awesome rewards upon redeeming them. Easily collect points on those purchases using our three ways. Then redeem your points for awesome rewards.
The rewards catalog is filled with items you'll love – from gifts cards and coupons to sweepstakes and so much more!
Besides, we add new rewards all the time. It only takes a few seconds to enter a valid email address – and it sets you up for exclusive bonus offers, free points, special discounts, money-saving coupons, and a variety of great-tasting recipes.
So, what are you waiting for?
It's time to sign up for Kellogg's Family Rewards to make your holiday season extra festive and memorable!